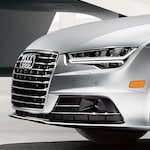 Driver-centric automobiles are high on the list for many automobile enthusiasts. The Audi A7 perfectly epitomizes the term driver-centric to the highest degree. This amazing sedan is luxury-based, and it comes in three trim levels. Consumers can expect all-wheel drive as well as an efficient powertrain.
The interior of this luxury sport sedan is spectacular as it hosts numerous advancements. First things first, the new A7 has HD Matrix-design LEDs as well as ambient interior lighting. Up to 30 different colors are available, including Passionate Red, Calming Blue, Up-lifting Yellow, and many more. The interior lighting of the Audi A7 certainly sets the mood.
In addition to that, Dual Climate Control will provide a comfortable temperature setting in the cabin. There's also a Bang & Olufsen audio system that produces 3D-quality sounds.