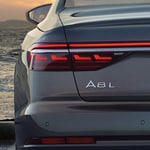 Audi A8 luxury sedan is a fun-to-drive vehicle that strikes a balance between comfort and enjoyment through its well-balanced chassis. Drivers looking for a stunning high-performance sedan will appreciate what the Audi A8 has to offer.
The streamline body design of the Audi A8 that comes standard with all its trims demonstrate Audi's mastery of automotive design with their fascinatingly nuanced interplay of surfaces, lines, and volumes. This sedan's skin on the outside appears uniform, as if it were modeled from a single volume. The following lines of the profile are aided by a coupe-like roofline, while sculptured surfaces create a sense of tranquility and refinement.
As with the normal A8 model, the A8 dimensions are as powerful and well-balanced. With its bold aluminum design, the manufacturing process demands the utmost precision. This single-frame radiator grille, a hallmark of Audi's front-end design, is displayed most prominently on the Audi A8.